---
---
 2023.04.18.
Thanks to the decision of the UN General Assembly, people around the world commemorate the importance of forests and trees every year on March 21 from 2013. With the support of 193 member states, this date was designated as the International Day of Forests.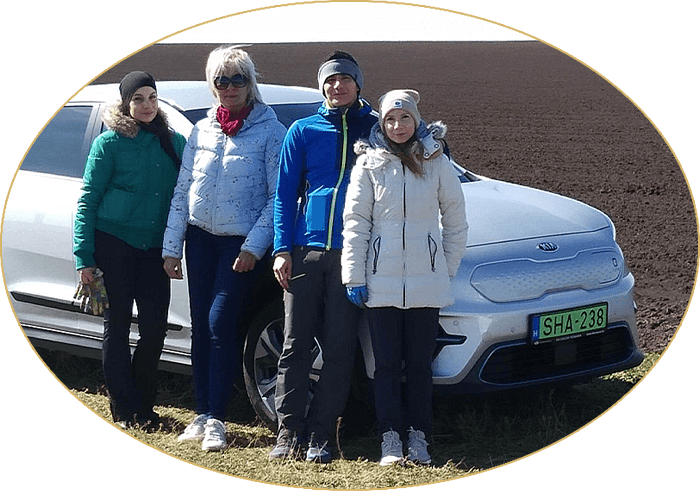 In honor of the International Day of Forests, four of our small team set off on a bright spring Saturday - by the company's electric car /charged with Imperity's solar panel system (!) / - to volunteer the MyForest Foundation's reforestation program in Kerekharaszt, project Nr. 2. Hungary.

The planting of free-rooted trees is ideal from October to April: we planted pedunculated oak, black oak, and other native species, as well as wild plums and wild cherries under the leadership of MyForest organizer and team leader Gábor Csikász.

It was nice to see that many other volunteers besides us dedicated their weekend free time to charity for the sake of the sustainability of our Earth.

We learned a lot of interesting things from Gábor Csikász about trees, the forest, and the tricks of planting, but also about why he and his foundation consider tree planting and afforestation to be an important mission - we fully agreed with his thoughts.
"In Transylvania it was used, when a small child was born, the father planted also a tree, and the 2 saplings grew together. This beautiful and usefull habit should be renewed, so that every small child has/could have a "tree- brother", because the tree produces oxygen for the child, the child can sit next to him, and if appropriate, the child can take care of the tree himself." [8]
Did you know? Every year, the world consumes approx. Losing 10 million hectares of forest, almost the size of Iceland [1]
Forests play a major role in regulating the climate: they influence the quality of precipitation, cool urban areas, and absorb a third of greenhouse gas emissions.
The forest reflects the climate of the area, by sequestering carbon dioxide, temperate forests have the effect of reducing global warming. The forest retains moisture and makes the flow of the rivers more even.
II/ Because trees and forests are essential for the health of people and the planet
Today, the forested area of our country is more than 2 million hectares, in 1920 it was only 1.1 million hectares. Hungary's forest cover is increasing every year [6].
III/ Because trees and forests provide shelter, food, and fiber.
---
 2021.10.20.

---
 2020.04.05.
Az Imperity Professional Milano kft. a tatabányai Szent Borbála Kórház egészségügyi dolgozóinak a vírussal szemben tanúsított áldozatos helytállásukért több százezer Ft értékben samponokat és hajbalzsamokat adományozott – ezek közül is a legdrágább márkából: a "mentes" és organikus összetevőkben gazdag Impevita termékekből, melyek miközben kíméletesen ápolják és hidratálják a hajmosásnak gyakran kitett hajszálakat, segítenek fényüket és egészségüket megőrizni.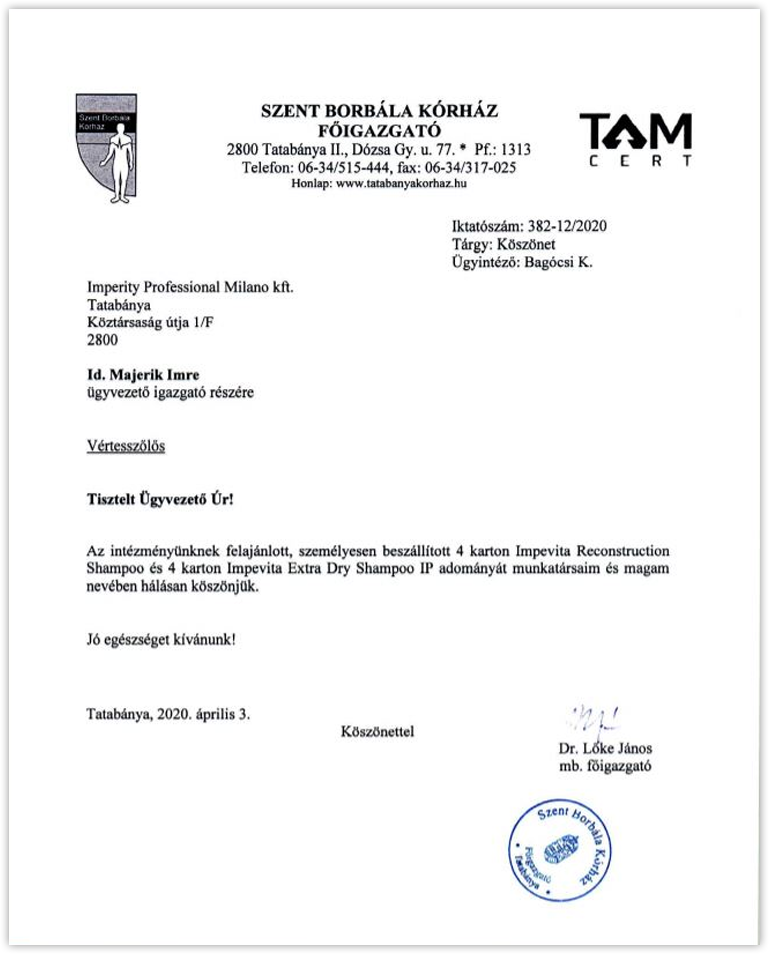 ---
*CSR = Company Social Responsibility = Vállalkozások Társadalmi Felelősségvállalása Az Európai Bizottság 2001-ben[1] úgy határozta meg a CSR-t, "amely révén a vállalatok – önkéntes alapon – társadalmi és környezetvédelmi szempontokat érvényesítenek üzleti tevékenységük során és partnereikkel fenntartott kapcsolataikban."[2] A CSR tehát olyan önkéntes vállalati döntéseknek és lépéseknek az összessége, amelyeket az üzleti szereplők az őket körülvevő társadalom életszínvonalának javítása, valamint a környezet megóvása céljából tesznek meg.
Tudj meg többet: https://hu.wikipedia.org/wiki/T%C3%A1rsadalmi_felel%C5%91ss%C3%A9gv%C3%A1llal%C3%A1s
A vállalati, többek között karitatív jellegű, emberbaráti jótékonyság is ide tartozik.